In a national network of over 1,650 sales consultants, a record number of Landmark Harcourts property specialists were ranked within the prestigious Top 100 of the wider Harcourts Australia network.
Barry Redmond of Landmark Harcourts Leongatha topped off a strong year, being named the Top Rural Sales Consultant across the national network and placing 11th in the national group overall.
"Barry and the team at Landmark Harcourts Leongatha have an incredible depth of knowledge with deep local relationships and first class marketing," said Landmark Harcourts General Manager, Mark Brooke. "Their customer focus is undeniable, and they consistently deliver outstanding results for their clients."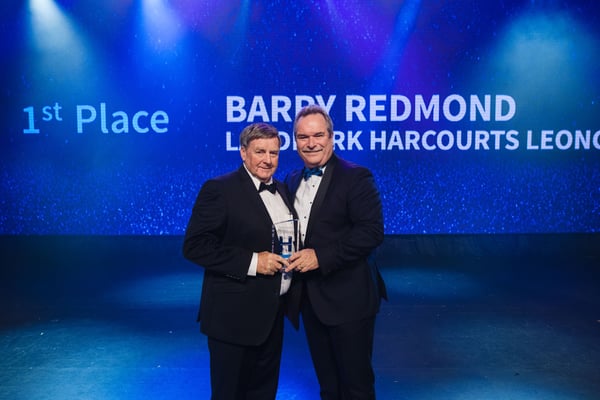 In the Top Rural category, Barry was closely followed by Darryl Langton (Landmark Harcourts Roma) in second position and Paul Thomason of Landmark Harcourts Esperance at No. 3. The two were also recognised as top performers nationally, placing 16th and 20th respectively.
A total of fifteen Landmark Harcourts sales consultants were named in the elite Top 100 performers within the wider Harcourts network.
The awards celebration also recognised the comprehensive nature of the Landmark Harcourts brand, with both rural and regional residential property specialists recognised for their successes.
In addition to ranking within the Top 100 Sales Consultants, Belinda Hocking of Landmark Harcourts Alexandra was also recognised for her tremendous achievement as the Top Residential Sales Consultant within Landmark Harcourts. Specialising in residential and rural lifestyle properties in Victoria's north-east, Belinda helped over 80 owners sell their properties throughout the twelve months to March 2019. She chalked her success up to a very simple business philosophy: trust.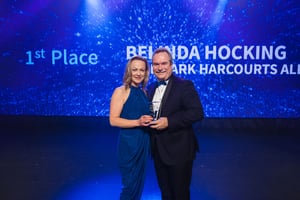 "People want to do business with someone they rely on," Belinda said. "Buying or selling a home is a very big deal for most people, so they need to be confident you'll deliver what you say you will – and that's what we do."
In the category of Top Residential Landmark Harcourts Sales Consultant, Belinda was closely followed by Judy Boyd (Landmark Harcourts Cootamundra) in second position and Michael Enever (Harcourts Bairnsdale) in third.
In the category Top Residential Office, Landmark Harcourts Wangaratta took out highest honours as the best performing business amongst the Landmark Harcourts group nationally.
Principal Joe McKenzie credits the success of the business to a combination of location and exceptional work within his team. "We are blessed in Wangaratta, living in a high rainfall region with a good balance of Rural, Residential and Commercial property allowing our team and customers mutual benefit in a market that has been tremendously good for a number of years," he commented, adding that the ongoing success of the business wouldn't be possible without the combined efforts of the Wangaratta team as well as the ongoing support of their clients.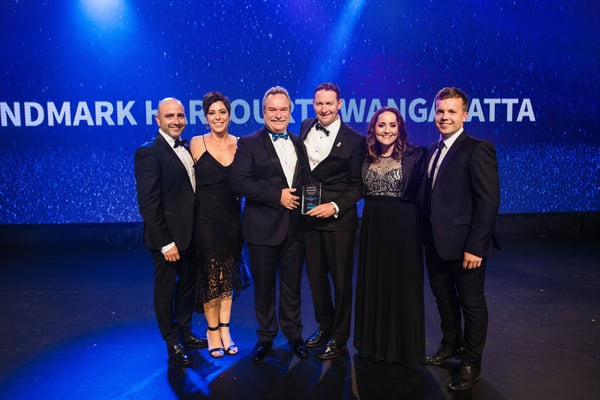 In the Property Management category, northern Queensland office Landmark Harcourts McCathies Ayr took out second place nationally in the Business Development, in recognition of the ongoing growth of their property management business.
"We put a lot of effort in acquiring new rental listings over the past twelve months," said business owner Lyndy McCathy. "But it's one thing to get new properties under management, and another thing to manage them successfully with satisfied landlords and good tenants, and I credit our wonderful property management team for that."
The awards capped off a particularly strong year for the group, as Harcourts Australia celebrated the announcement that the network has moved into the 3rd position nationally for both value and number of sales achieved.
Landmark Harcourts Sales Consultants featured in Harcourts Australia's Top 100
11. Barry Redmond (Landmark Harcourts Leongatha)
16. Darryl Langton (Landmark Harcourts Roma)
20. Paul Thomason (Landmark Harcourts Esperance)
28. Adam Shields (Landmark Harcourts Gingin)
46. John Stringer (Landmark Harcourts Euroa)
52. Belinda Hocking (Landmark Harcourts Alexandra)
53. Brian Liston (Landmark Harcourts Albury)
56. Brad King (Landmark Harcourts Geraldton)
57. Neville Tutt (Landmark Harcourts Albany)
60. Simon Cheetham (Landmark Harcourts Merredin)
72. Andrew Jakins (Landmark Harcourts Goondiwindi)
82. Joe McKenzie (Landmark Harcourts Wangaratta)
90. Gary Johns (Landmark Harcourts Mackay)
97. Judy Boyd (Landmark Harcourts Cootamundra)
100. Boyd Curran (Landmark Harcourts Longreach)
Harcourts Australia - Top Rural Sales Consultant
1. Barry Redmond (Landmark Harcourts Leongatha)
2. Darryl Langton (Landmark Harcourts Roma)
3. Paul Thomason (Landmark Harcourts Esperance)
Harcourts Australia – Property Management Business Development Award
2. Landmark Harcourts McCathies Ayr
Landmark Harcourts – Top Residential Sales Consultant
1. Belinda Hocking (Landmark Harcourts Alexandra)
2. Judy Boyd (Landmark Harcourts Cootamundra)
3. Michael Enever (Harcourts Bairnsdale)
Landmark Harcourts – Top Residential Sales Office
Landmark Harcourts Wangaratta