In her fifth and final year of an Arts/Law degree at Deakin University, Siobhan Liston is a perfect embodiment of the Miss World Australia 'Beauty for a purpose' competition. As one of the five Victorian finalists in the competition, we're very proud to support her fundraising efforts for Variety.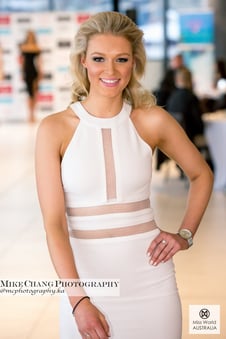 Originally from the small town of Henty, NSW, Siobhan moved to Geelong to pursue her studies in 2012. She took up modeling as a part-time job while studying, and when the chance to audition for the Miss World 2016 competition arose, she jumped at the opportunity.
"It was a fantastic opportunity that would allow me to help raise funds for a worthy cause," she says. "The work Variety does is invaluable. The organisation assists kids in need of extra help to live, laugh and learn."
Established in 1975 in Australia, Variety - the Children's Charity is a national not-for-profit organisation empowering Australian children who are sick, disadvantaged or who have special needs, giving them the support, equipment, programs and experiences to live happy, healthy and fulfilling lives.
Variety's ability to provide this support comes entirely from grants and fundraising. Participants in the Miss World Competition are encouraged to fundraise as part of their experience, and support such as the grant given to Siobhan have raised an amazing $213,203 this year.
The 2016 competition ended on 22nd July, with the crowning ceremony held at Crowne Casino in Melbourne. Although ultimately Siobhan wasn't selected to represent Australia – the honour going to Madeline Crowe of Queensland – she says she has no regrets and loved every minute of what she describes as a 'once in a lifetime event'.
"I met and formed friendships with some inspirational and influential young women from all over Australia. They are compassionate, motivated, and driven," she says of her fellow competitors. "I have no doubt they will succeed in their various fields."

For Siobhan, too, life is looking positive. With her graduation approaching in October, she already has past experience in law firms and publishing offices and is also considering a career in real estate.
We congratulate on her fantastic effort in reaching the National Final, and have no doubt that – like her fellow contestants – she'll go on to succeed in her chosen field.
For more information on Variety | Follow Miss Australia Madeline Crowe's journey