Through August to October, a 37-day vintage car tour is threading its way through regional and rural Queensland, spreading awareness about prostate cancer. Landmark Harcourts is proudly supporting the ManUp! event as our first sponsorship through the Harcourts Foundation.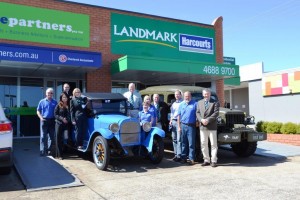 The three-man two-car ManUp! convoy will visit 40 towns across 5,170km including stops at all our Landmark Harcourts Queensland locations.
"We're delighted to be supporting this very worthy cause," said Craig Yarrow, Landmark Harcourts General Manager, as the ManUp! Tour kicked off on 27 August from the Freemasons Queensland Masonic Temple in Brisbane.
"I commend ManUp! in its mission to raise public awareness about prostate cancer."
"Our entire team throughout Queensland looks forward to welcoming the road tour to their towns and communities, and to joining in local events that support the cause."
The ManUp! message is all about diagnosis, treatment and understanding of prostate cancer, the most common cancer diagnosis in Australian men.
One in five Queensland men will be diagnosed with prostate cancer in their lifetime and there are almost 100,000 Australian men living with the disease, which claims almost 3,300 lives each year. They are fathers, grandfathers, sons, brothers, uncles, cousins, nephews and best mates.
More men die from prostate cancer than women die from breast cancer. Yet prostate cancer receives only a fraction of the Federal Government funding that breast cancer receives.
The ManUp! On the Road Tour team will be handing out information brochures, speaking to groups and urging men to "get your prostate checked!"
At its early (and potentially curable) stage, prostate cancer does not have obvious symptoms. A routine examination by a doctor is the best form of detection.
You should get tested:
As part of an annual general check-up, usually after 50 years of age.
From 40 years of age, if there is a family history of prostate cancer.
After an onset of urinary symptoms.
Symptoms can include:
The need to urinate frequently, especially at night.
Difficulty starting urine flow, interrupted flow and dribbling afterwards.
Pain during urination, pain in back, hips or pelvis.
Early detection not only saves lives, it helps preserve quality of life and assists in treatment options and recovery.
ManUp! On the Road Tour is just one part of the work of ManUp! – a registered not for profit organisation dedicated to tackling prostate cancer by:
Raising the community awareness of prostate cancer and the need for screening through an educational campaign.
Reducing the impact of prostate cancer on men and their families.
Raising vital funds to establish a program of dedicated prostate cancer care nurses to support men living with prostate cancer.
There are many ways you can support ManUp! You can make a donation, hold a fundraising event, sponsor a Prostate Cancer Care Nurse or leave a bequest.
Even if you don't see the ManUp! tour team in your town, you can still be involved in helping ManUp! spread the word. Check the ManUp! website for details.
And, whatever else you do: Get your prostate checked!
By Sheryl Allen
Link: