Phil Rourke
Real Estate Sales Manager - Corporate
Corporate Real Estate Sales Manager Phil Rourke has more than 45 years agency experience, is a licensed Stock and Station Agent, Business Agent and Real Estate Agent and a licensed Valuer in NSW.
His career commenced with Winchcombe Carson in 1971 and since then Phil has held management positions in a number of Company locations in both NSW and Victoria and was Real Estate Sales Manager for NSW from 1999 until commencing in his current position in 2011.
With a sound knowledge of all types of livestock and general farming areas on the east coast of Australia, having worked in livestock marketing for a number of years in the 1990s, Phil is well grounded in rural property marketing.
Since 1976 Phil has been a registered rural property valuer, having prepared numerous valuations for clients in NSW and Victoria, as well as developing sales strategies and marketing campaigns for properties throughout rural NSW.
Phil has managed the sales and marketing campaign of the Clyde Agriculture group of properties in NSW for in excess of $150 million, 'Collymongle Station' at Collarenebri for over $45 million and more recently 'Collaroy Station' at Merriwa for over $10 million. Phil was a recipient of the prestigious Award for Rural Marketing at the Annual REINSW awards for excellence in 2003, 2009 and again in 2011.
Phil is a member of the REINSW and is the NSW Licensee in Charge and a director of Landmark.
---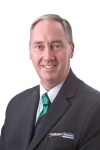 Simon McIntyre
Real Estate Manager - South AUSTRALIA
Simon McIntyre holds the position of South East Region Real Estate Manager for Landmark Harcourts and is responsible for developing the business in the region which encompasses South Australia, Victoria and Southern New South Wales.
Simon is a third generation real estate agent having learned the trade under the guidance of his father in the small town of Minyip in the Wimmera in a role that commenced in 1977.
Simon has more than 35 years of experience in rural property sales and marketing, management and agency ownership, which includes 14 years in Melbourne as an independent agent prior to commencing with Dalgety in Victoria in 1992.
He was appointed State Real Estate Manager for South Australia in 1993 and remained in that position through to taking up his current position in 2011.
Simon is a licenced real estate auctioneer and is a former board member of the Real Estate Institute of South Australia. His very broad experience in real estate sales and marketing has allowed him to sell both residential real estate and rural properties including pastoral country from Broken Hill, to Northern South Australia and the Northern Territory, as well as sales over three states in Australia.
---

Jason Michelmore

REAL ESTATE MANAGER - NORTH EAST REGION
jason.michelmore@landmarkharcourts.com
As Corporate Real Estate Sales Manager for Queensland, Jason Michelmore draws on 20 years of rural agency experience across a number of states and territories in Australia. He has held national, senior management and board level positions in the Riverina NSW, Adelaide SA and in Brisbane QLD.
Jason's main asset is his ability to relate to a wide range of people on many varying different levels and believes that client confidentiality and integrity is the key to success in this current position. He strongly believes in actions over words: "We're not interested in self-promotion. We're about making sure we achieve the best possible outcome for our clients when it comes to property transactions."
Feel free to make contact with Jason anytime on 0438314676 for a confidential discussion about business opportunities within the Landmark Harcourts network.
---

Terry Norrish

Western Region Real Estate Manager - Western Australia
Coming from a large wheatbelt farming family, Terry is passionate about the industry. He has been involved with Wesfarmers and subsequently Landmark in a range of capacities for over 30 years, focusing on real estate for 25.
He has recently taken on the role of Business Development Manager within Western Australia. With a reputation is built around his large network of contacts and having great communication skills at all levels, Terry's goal is to cement Landmark Harcourts as the premier Rural Real Estate agency in Western Australia.
---

Mark Brooke GENERAL MANAGER - AUSTRALIA

Mark Brooke draws on more than 30 years industry experience.

From being raised on the family farm in northern Victoria to studying valuations in Melbourne, to a real estate sales position for several years in Victoria's Gippsland region, Mark has a solid grounding in rural and regional property markets and dynamics . Mark joined Landmark Harcourts (as Wesfarmers Dalgety) in 1996 and has subsequently held a variety of Management positions within the Company including State Real Estate Manager for Victoria/Riverina/Tasmania, and Divisional Real Estate Manager for South Eastern Australia. He was appointed to his current role in 2011.

In 2015 Mark was appointed a Director of Landmark Operations Ltd, and in 2016 was appointed by the Minister for Consumer Affairs as a member of the Estate Agents Council for the State of Victoria.

In addition to being a Licensed Estate Agent, Stock and Station Agent and Business Agent (in Victoria and New South Wales), Mark is also an accredited Auctioneer, and an active member of the REIV and ALPA, having held numerous state-level committee appointments for both organisations.

Mark's special interest is in the development and implementation of innovative marketing strategies to continue enhancing the Landmark Harcourts reputation and performance in rural and regional marketplaces across Australia.